Turnkey Home with 12.83 Acres
Agent: Jo Audinett
ID #1107
Price: USD $290,000
Active :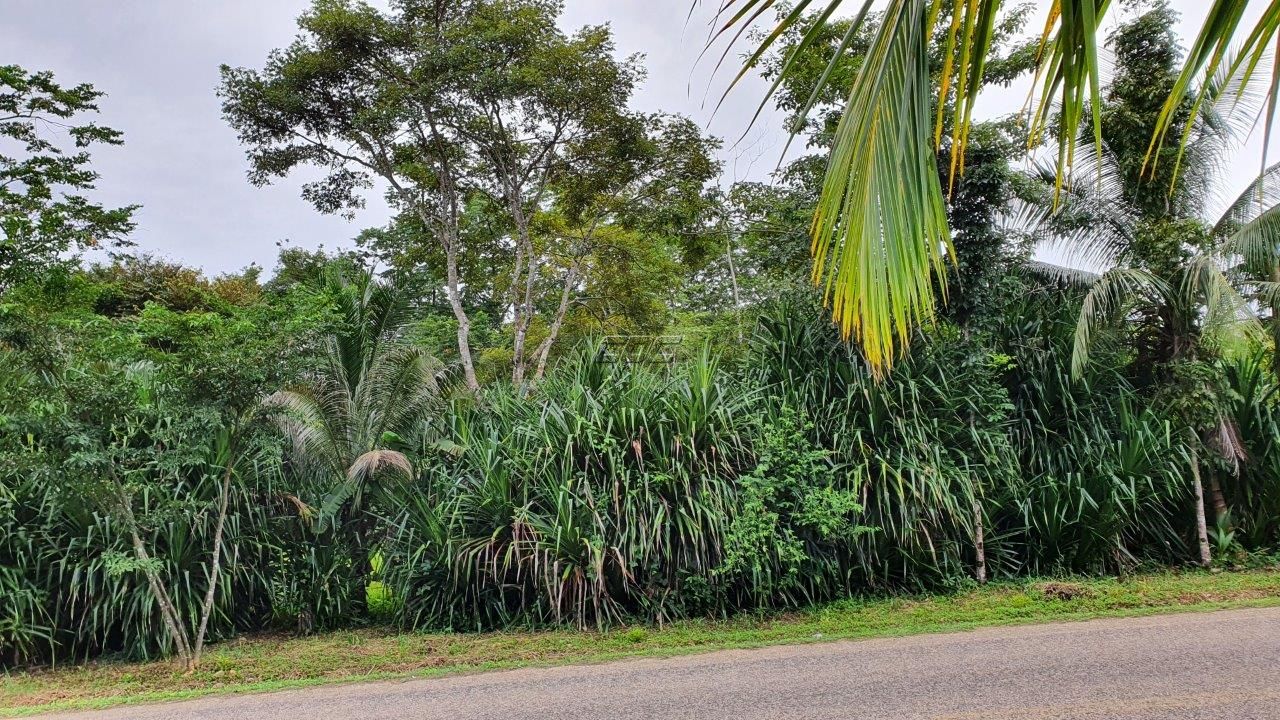 Property Information for ID #1107
This stunning 12.83 acre turnkey home and farm is perfectly located on the newest highway in Southern Belize. Only a short 20 minute drive from Punta Gorda town, this property is walk in ready, with a huge host of local plants; fruit trees, herbs and medicinal plants. This manicured land has its own unexplored Maya site to the back and a beautiful freshwater stream running through the property. The land has access to mains electricity and for water, has its own well, which is more than sufficient to provide for a family.
The property has a small one bedroom house with veranda at the top of the driveway featuring beautiful woodwork from the local area. An additional outside firehearth kitchen is also on site with a few smaller thatched structures.
The land has more than 200 Mahogany Trees, 4500 Cacao Trees, Turmeric, Coconut, numerous varieties of banana's: Bloggo, Apple, Local, Plantain etc., many Supa Trees, Mami, Malay Apple, Custard Apple, Soursop, BreadNut, Bamboo, Cinammon, Craboo, Kinep, Okra, Bukut, Guava, Sugar Cane, Mango, Avocado, Allspice, Pineapple, Lime and Pitaya. It also has a Nursery brimming with seedlings, numerous exotic flowers such as, Red Ginger, Pink Ginger, Torch Ginger, Frangipani and Aloe Vera and it features many spices such as Pepper, Oregano, Basil, Peppermint, Culantro and Cilantro and many more. In fact, 98 of the 100 Medicinal Plants featured in "The Rainforest Remedies; One Hundred Healing Herbs of Belize" book can be found on the property. An estimated revenue of around $20,000 per annum can be made with the current produce on site.
This property boasts stunning views of the Mayan hills and has easy access into Punta Gorda town and the Toledo District. It is only a 5 minute drive to the Southern Highway, and is a short distance from the Rio Blanco National Park and Waterfalls, San Antonio Waterfalls and a number of beautiful Mayan villages.
Toledo is an emerging destination, often referred to as the hidden gem of Belize. It boasts a stunning coastline with easy access to the Cayes which offer great fishing, snorkelling and scuba diving, aswell as having access to pristine Belizean jungle! Toledo is renowned for its multicultural and diverse people, it is super friendly, safe and up and coming.
Not only is this a beautiful, affordable place to live in the most undiscovered area of Belize, it is an EXCELLENT investment.
For more information on P.G. and the Toledo District, go to http://www.southernbelize.com/puntagorda.html
For more information, please call: 1-250-361-7159
Address
: 20 minutes from Punta Gorda on the HWY
City/Town/Village
: Punta Gorda Town
District
: Toledo
Lot Size
: 12.83 acres
Annual Property Tax: US Call For Price