Seafront Home On The Caribbean
Agent: Danie Oosthuizen
ID #1076
Price: USD $449,900
Sold :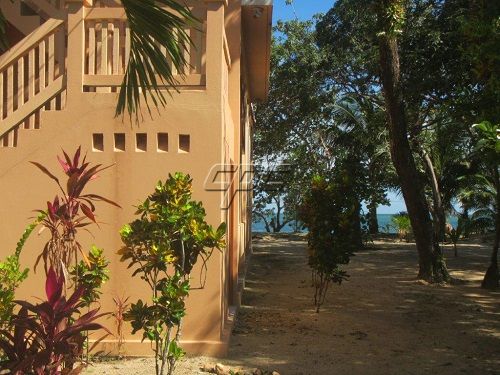 Property Information for ID #1076
Have you been dreaming about being on the Caribbean Sea?
Well this is your chance to acquire this piece of Paradise. This 2 bedroom / 2 bathrooms Seafront Caribbean Home with its beautiful sandy beach is all you need to fulfil your dream.
This custom built concrete home is designed to do as little Ecological damage as possible to this beautiful property by only removing the big trees needed to place the house. With the special imported Weather shield Windows this home is built to withstand up to Category 5 Hurricanes. The designer of this home also paid special attention to making use of as much as possible of the natural resources Belize has to offer. The interior floors and porch are done with natural rock and the interior is decorated with the exotic hardwood's that is on offer.
This home was designed with outdoor living in mind. Open the double French doors in the bedroom and the Living area then enjoy the large open porch and smell and hear the sea. When you have your early morning coffee watching the beautiful Caribbean sun rise from your porch, you will realize you are in Paradise. The sellers design this beautiful home for their own use and therefore it has never been rented out. For the baking enthusiast's the Electric Range will ensure for a perfect meals every time.
With the solid concrete piles this property is built on, you can build another home on top of this one or you just keep the current flat deck for entertainment as it is currently used.
Come and experience fishing, snorkelling and diving in our beautiful turquoise waters or venture into the jungle and zip line, river tubing or even cave tubing, or just enjoy the Mayan ruins etc.
As a bonus the adjacent Lot #24 is also available. See https://www.belizeproperty.com/seafront-lot.html
Do not miss out on this gem. Call Danie at +1 501 615 9000 for an appointment.
For more information, please call: 1-250-361-7159
Address
: Lot #23,
City/Town/Village
: Hopkins Village
Neighborhood
: Sittee Point Estates - Phase 1
District
: Stann Creek
Beds
: 2
Baths
: 2
Floors
: 1
Year Built
: 2008
mls
: No
Square Feet
: 1,500
Lot Size
: 6,250
Annual Property Tax: US $21